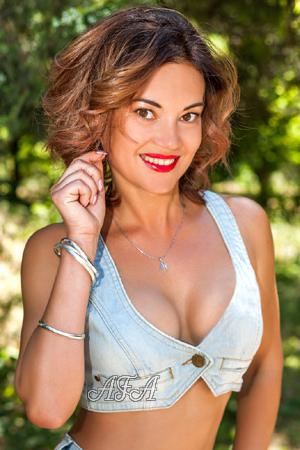 ID: 175900
Tatiana
Ukraine
City:
Odessa
Age:
41
Zodiac:
Aries
,
Snake
Weight:
114lb, 52kg
Height:
5'5", 165cm
Measurements:
35-22-34
Measurements cm:
90-55-87
Eye Color:
Brown
Hair Color:
Brown
Marital Status:
Single
Children:
None
Religion:
Christian
Smoker:
No
Drinker:
No
Education:
University
Company:
Dancing studio
Job Title:
Manager
Years Worked:
1
Sports:
Gym, Dancing, Ballet, Skiing
Hobbies:
photography, rest on the nature, grow flowers, sport
English:
poor
Languages:
Russian (native)
Self Description: You can see my photos and admire me, but except of my appearance you have a possibility to open my private world. I can be gentle, tender, romantic, but at the same time passionate and burning, emotional and temperamental! My friends say that Iím kind and sympathetic, I always try to help people, I am able to listen to and give a piece of good advice, after all, sometimes it is so important!!! I like to draw, go in for sports, I listen to music, I read books and yes, I love to follow everything that makes my soul flying. I enjoy the smallest things and have the power to feel them so deeply inside. I love beauty, and not only outer, but inner too. I believe that person cannot be that beautiful outside if there is no beauty inside. I value the Truth and Iím always true and honest and when it comes to the relations I prefer to start everything from this. Someone may say, itís complicated to be myself with unknown people, but Iím convinced that only sincere smile and desire to be without masks are the right keys for the good connection. Also, Iím very sensitive woman as well as thinkable. I have artistic skills, so I use them every day not only in my job, but in my hobbies. People love to spend time with me, talk to me about different matters and Iím always ready to help and discuss if there is necessity. I know that only positive thinking and optimism make people the most beautiful and the happiest. Still, only the love in oneís heart can create that endless beauty inside and out. Thatís why Iím here Ė to paint the full picture of happiness. Your Artist is ready, the instruments are taken, the enthusiasm pours so strongly Ė so, dear, I hope youíre willing to change your life and add loving colors!!! Do you?
Comments: I need a man who will know what I want without saying any word. I want to find a man with whom I will feel happy just knowing he is by my side. I need a man who will love me! If you feel that you are that person I need, I'm ready to open my heart for you! And once I fall in love with that special man, I give him everything that I have and make him the happiest. The only thing I miss is to be sure that he also misses that. Love is very serious thing for me and I take it for serious. And itís not simple to love someone, because when we love, we love them with all their likes, habits, weíre ready to accept this for granted, we never change person entirely and simple love, because this is the eternity, this is the matter why we are hereÖ I look for the serious man who is going to change his life and accept meÖ Are you that one, that one and only???